A debt trap?
November 04 2020
Read on to find out how to prioritise your debt repayments so that your debt is working for you and not the other way around. Reading time 3 minutes.
How do you feel when you hear the word debt? Not least because it sounds like something else very final, debt can conjure up strong negative emotions in people such as anger, fear, frustration, hopelessness and overwhelm.
Many popular money movements have as a cornerstone the lure of becoming 'debt-free'. The reality is, however, that debt is neither positive nor negative. Like money, debt is neutral. It is the purpose for which you use debt (and money) and how you manage it that renders it either positive or negative.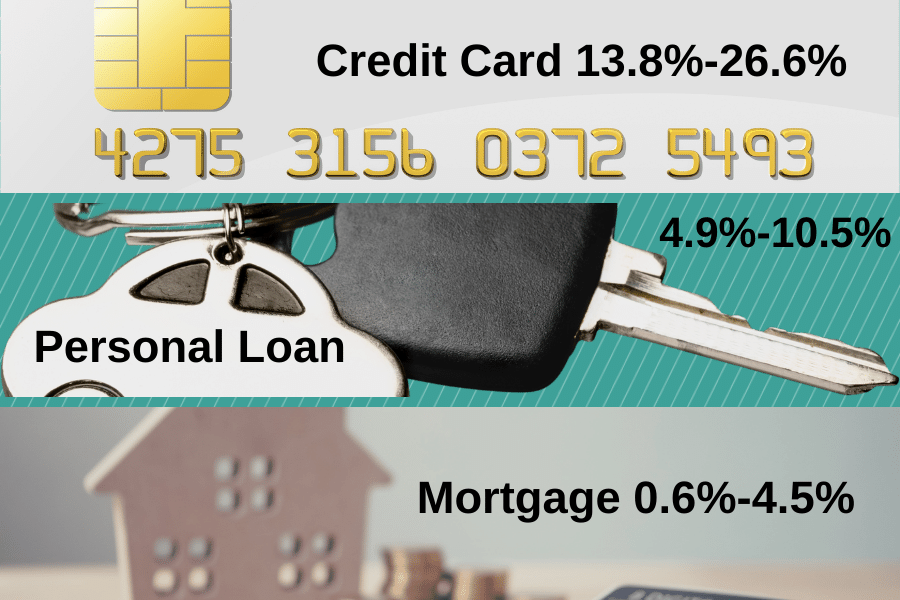 This month's money tip is to clear your most expensive debt first. It may come as no surprise that your credit card tops the list for the most expensive debt ahead of personal loans and mortgages. Still not reason enough to reach for the scissors. The flexibility of your credit card can be very attractive and if used appropriately, credit cards can be a great way to pay for your purchases.
Do not use your credit card for cash withdrawals. You will usually get charged a cash advance fee and will also be charged interest from the day you make the withdrawal. If you steer clear of cash withdrawals and clear your balance in full each month, you will pay no interest and enjoy the benefits of up to 56 days interest-free credit as well as the convenience and protection offered by your credit card.
Sometimes, however, our flexible friend can be just too flexible. We know from research conducted by the CCPC (Competition and Consumer Protection Commission) that two core behaviours positively affect financial well-being directly; active saving and not borrowing for daily expenses. In the lead up to Black-Friday and Christmas, we need to be particularly mindful of our purchases when the temptation of excessive on-line shopping looms large. 
It pays to consider your purchase carefully and ask yourself a number of questions.
Do you really need the item you are purchasing?
Have you done your research and is this the right purchase for you or the lucky recipient of your gift?
Is there is a better value alternative available?
Perhaps you can postpone the purchase until you are in a more secure financial position?
A good strategy is to leave the item in your basket for at least 24 hours to see if it has the same draw for you when you return to it the next day. Also, when shopping on-line be mindful to support locally-owned shops whenever you can to ensure your local community gets maximum benefit from your hard-earned cash.
Despite our best efforts, many of us will, from time to time, end up with a credit card bill that we just can't clear in full within the month. If this happens, do your best to clear as much of it as possible and limit your purchases the following month so you don't end up back where you started.

For unavoidable purchases, it may make sense to use your credit card to avail of the 56-day interest free period. This means that you will have more money available in your current account to pay off the historic balance. Caution is clearly required with this approach. Continuing to do this and failing to clear the historic balance in full will simply result in prolonged expensive indebtedness.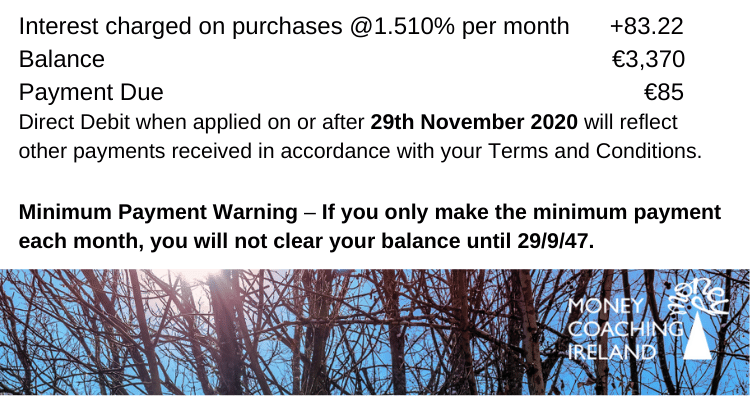 If the problem persists, please don't continue simply paying the minimum amount each month. As the image above demonstrates, the minimum payment amount just about covers your monthly interest bill. So, unless you want to be paying interest on your purchases to your credit card provider for the next 27 years, take action!  
Is there a family member or friend who could support you to clear the balance so that you could be repaying them every month rather than just paying your interest?
Are you in a position to take out a personal loan to clear the balance?
If you're committed to repaying the outstanding balance in the short-term, then consider switching to a credit card that offers a zero percent introductory rate.
The CCPC has some great resources when it comes to managing your credit card and other debt. On their website, you will find a list of credit card providers offering zero percent introductory rates. Bear in mind, however, that these rates will only be for a period of 6 to 12 months, at which point your rate will revert to a standard credit card rate, which may be even higher than your existing provider.    
Educating yourself about how much you are being charged for credit will ensure that you know where you stand and you are getting good value for money. If you find you are overpaying for your debt, switching may be a good option. The CCPC comparisons and calculators are great tools to support you if you are considering switching.
Look out for more information from Money Coaching Ireland on effective debt management over the coming months. If you require more holistic one-on-one support, book a free 20-minute discovery call to see how we can support your financial well-being. You'll be glad you did!

If your debt problems have become overwhelming, don't bury your head. Talk to your lender and seek assistance from family or friends. Mind your mental health and if you need to, get in contact with your GP. Support and information is available from the CCPC, Citizens Information, MABS, the Insolvency Service of Ireland, the HSE and others.