Tear yourself away from the contest Stateside and look at these margins instead...
November 05 2020
In this month's money tip, we look at the price of debt and how to prioritse your repayments. Reading time 2 minutes.

Sounds simplistic but if you proactively manage your debt, you can avoid it becoming problematic and you can save serious money on your interest bill. Now, who doesn't what that?
So, do you know how much your existing debt is costing you and how to prioritise your repayments? If you're unsure, your credit agreement and statements will confirm the interest rate you are paying on your debt. It is also important to remember that your credit card and personal debt will usually be unsecured whereas your mortgage will be secured on your home. The priority of repayments, will only apply therefore, when you are comfortably meeting your mortgage repayments each month.
Below is a list of typical interest rates for common debt products and yes, you've guessed it, short-term money lenders aside, your flexible friend tops the list.
Now that's no reason to reach for the scissors. If you repay your balance in full every month, credit cards are a great way to pay for your purchases. If you don't, that's where the interest and the problems can start to rack up. For support with problem credit card debt, make sure to read our second blog article A Debt Trap?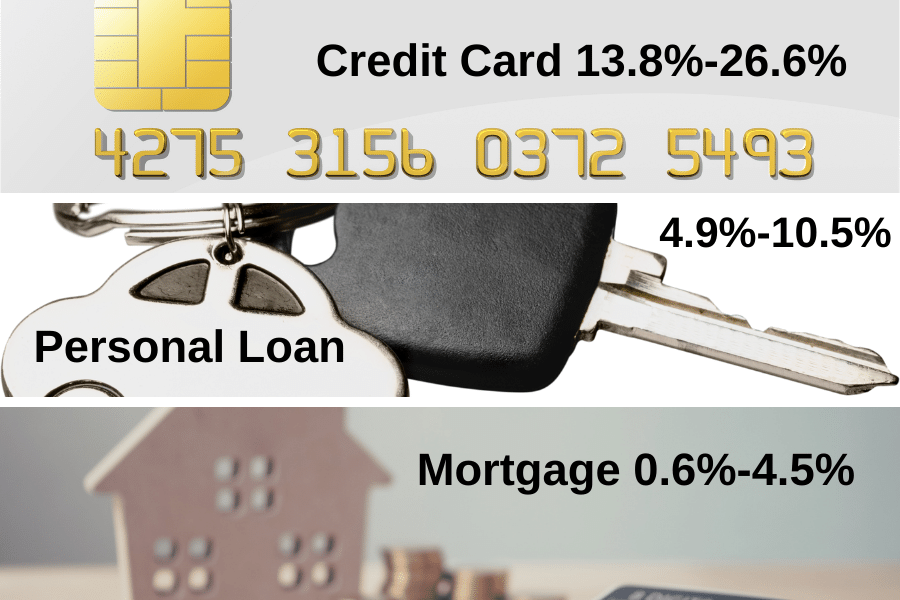 If you are in a position where you have excess cash and your credit card is under control, then turn your attention to your personal loans (car/home improvement/lifestyle loans). Assuming these are on a variable and not a fixed rate, then you can overpay to your heart's content without incurring a penalty.
As shown in the price of debt image above, your cheapest debt will typically be your mortgage. Again if you are on a variable rate, you will be able to make repayments over and above your monthly repayment amount but before you do, some things to consider -
Is your credit card under control?
Do you have a decent emergency fund saved?
Do you have any variable rate personal debt?
Would an investment be a better use of your funds?

If you are unsure about a financial decision, it is always a good idea to seek professional advice. Before you do, educate yourself so that you are in a position to understand, challenge and take on board the advice you receive. 
Be sure to subscribe to our mailing list to recieve monthly money tips, a quarterly newsletter and other relevant updates direct to your inbox. Follow us on LinkedIn, Instagram and Facebook to stay up-to-date on all things money.
Another great source of information is the Competition and Consumer Protection Commission. Make sure to check out their money hub for lots of useful info, tools and calculators.
If you require more holistic one-on-one support, then why not book a free 20-minute discovery call to find out how Money Coaching Ireland can support your financial well-being now and into the future. You won't regret it!